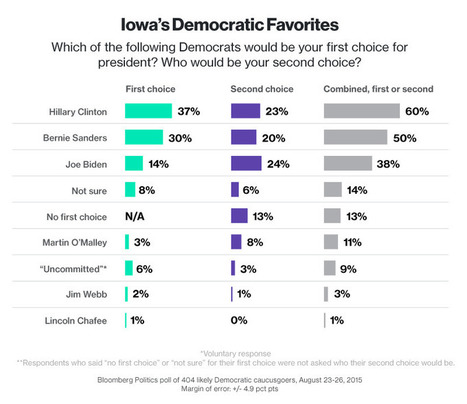 Vice President Joe Biden would enter Iowa in a distant third place among Democrats if he decides to run for president, but his rising popularity, combined with signs of trouble for Hillary Clinton, means the early caucus state may be less of an obstacle to Biden this time than it was in 2008.
[via @bpolitics]
...
"He's like, 'Wow I'm at 14 and I haven't even announced, and everybody likes me, but more importantly Hillary's way under 50 and Bernie's within striking distance,'" said Ken Goldstein, professor of politics at the University of San Francisco and Bloomberg Politics' polling and advertising analyst.
"Biden is a bet on potential. He's got high favorability and then if Hillary implodes, if Hillary's a disaster in the debate, if another scandal comes up, if Bernie beats Hillary in Iowa and New Hampshire, Biden's strong favorability is then poised to take advantage of those things," Goldstein added.